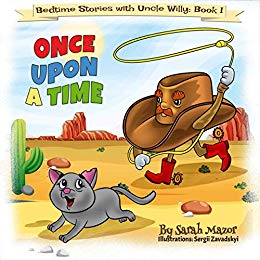 You'll Love this bedtime story!
Reviewed in the United States on March 26, 2019
Format: PaperbackI loved this "Once Upon A Time" bedtime story starring Silly Uncle Willy. The enchanting rhymes will keep you smiling and have young children enjoying every second of the story. They'll want to read it over and over again. You'll have trouble choosing a favorite part. It might be the pail delivering the mail, or the chimney dressed in a blouse, or the chubby cookbook stirring the kettle. You're sure to find this book delightful from cover to cover. And, not only that, but at the end, you'll enjoy riddles to engage children and help them gain knowledge. I give this book my highest recommendation.
Review by children's author Deanie Humphrys-Dunne
copyright: Deanie Humphrys-Dunne 2020
The post Review of: Once Upon a Time: Bedtime with a Smile Picture Books (Bedtime Stories with Uncle Willy Book 1) appeared first on deaniehumphrysdunne.wordpress.com.